This holiday season, the Higbee & Associates team joined together to bring Christmas to a family in need, made sure our furry friends were warm, and helped feed our community through donations.
Higbee & Associates brought joy to a family for the holidays by donating and delivering gifts. The team worked in with the South County Outreach organization, who connected the family with the firm.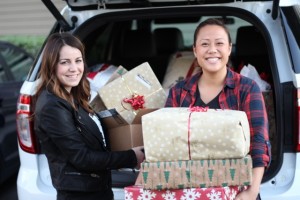 The volunteer-based organization accepts 250 to 1,500 volunteers throughout the year to work on projects and events that give back to the community. Although they offer several different means of volunteering and outreach, Higbee & Associates chose the Adopt-a-Family program. "I think that our field of work is about advocating and helping others. When meeting the family, it was so awesome knowing that they'll get to celebrate the holidays with presents under their tree and walking out of their home having that 'We did it!' feeling!" says Jamila Ha, the Supervising Legal Assistant who organized this project.
Ha coordinated with the mother of the family, who compiled a wish list from each of their children and from their family. The Higbee & Associates team put on their Santa hats, individually contributed gifts, and brought Christmas to the family.
Higbee & Associates is a law firm that undoubtedly has a love for animals and pets. What better way to give back to our furry friends than to help out a local animal shelter? OC Animal Care has taken in and cared for more than 30,000 dogs, cats, bunnies, and other pets. This holiday season, the Higbee & Associates team gathered new and used towels and blankets that were to donated to OC Animal Care. Although the animals are loved by the caretakers at the shelter, the Higbee & Associates team brought more supplies to keep the animals warm during the chilly holiday season.
Higbee & Associates also participated in the "Restore OC Holiday Food Drive" where canned goods were collected and donated to the Habitat for Humanity of Orange County ReStore, who partnered up with the Second Harvest Food Bank of Orange County. Their mission is to help feed more than 277,000 individuals per month in our local area through these donations.
The law firm not only aims to offer exceptional services to their clients, but also aims to give back to the community and those in need. Aside from giving back through donations and other acts of kindness during the holiday season, Higbee & Associates is proud to be able to offer pro bono services to offer legal services and assistance to those in need. For more information regarding upcoming and past Pro Bono events, visit the Pro Bono page of the website.