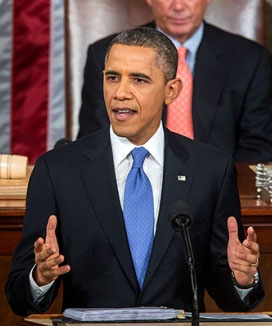 President Obama recently stated the United States is in an "epidemic of gun violence," at a White House proposal meeting regarding gun control. Many Americans who have been convicted of crimes are concerned about the possibility of losing Second Amendment rights due to the President's proposal.
President Obama's proposed legislation arises in response to incidents such as the Sandy Hook Elementary shooting in Newtown, Connecticut, as well as other shootings associated with the mishandling of firearm use and accessibility. The President's proposal is a reaction to strengthening "local laws, gun crime laws, state laws and federal laws…holding people accountable who have committed crimes," stated fellow Republican sheriff from Washington, Dave Reichert.
The gun control proposal would put into effect a variety of procedures that can effect the population of Americans who have a criminal record. Such proposed procedures would include, but are not limited to:
Mandatory background checks from both public and private establishments involved in gun sales
Higher penalties for persons who bypass background checks and purchase firearm through others, also known as "straw purchasers"
Providing pertinent information to the federal background check system
Creating incentives for states sharing background check information
Authorizing the General Attorney to categorize and profile individuals prohibited to obtain firearms
Law enforcement's enacting of conducting background checks on individuals who have seized returned guns
Requiring the federal law to run background checks on guns recovered in criminal cases
Although the President's proposed legislation provides the regulated, enforced, and strictly monitored use and accessibility of firearms to benefit our society, the initiative may also cause distress for Americans who carry the burden of a criminal background and are attempting to acquire and maintain firearms.
It is critical, at a time like this, to evaluate what your background check states about your criminal record, as well as find out your Second Amendment rights. Higbee & Associates' RecordGone.Com provides a variety of services in 16 states to assist in clearing criminal records, as well as restoring firearm rights. Based on the evaluation of your criminal background check, you may or may not be eligible to legally acquire and retain a firearm.
Find out about the potential benefits of clearing your criminal record to maintain your firearm during this period of legislative turn with Higbee & Associates. For more information regarding your eligibility for our services, please visit RecordGone.com or call toll free today at 877-573-7273.