RecordGone.com, the expungement and criminal record clearing division of Higbee & Associates, had its 10,000th criminal record cleared on behalf of its clients today.   The landmark number was obtained when a Los Angeles court granted an expungement of a petty theft case.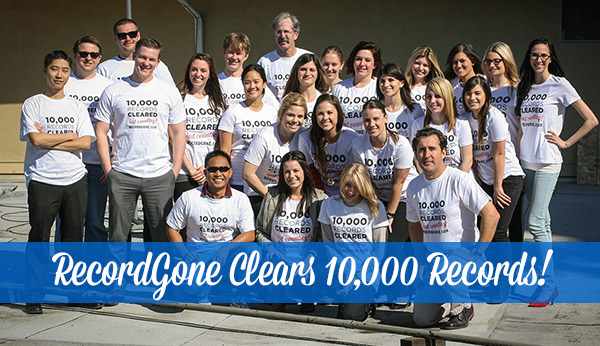 "We are always excited when we succeed for our clients," said Jennifer Strange, supervising attorney for the division.  "However, succeeding for the 10,000th time is particularly exciting."
Mathew Higbee, the attorney who founded the division in 2006, said reaching 10,000 cases granted due to amazing employees, excellent clients and innovative business partners.   "This accomplishment is testimony to our talented team— all of whom are committed to the success of our clients, our business partners who have helped make our services more effective, and our clients who earned the relief they received," said Higbee.
RecordGone.com represents clients in post-conviction cases, including expungements, record sealing, and appeals in 14 states.   RecordGone.com was named by Inc. Magazine as one of the fastest growing companies in America in 2012.