The Case Evaluation costs only $150, and includes:

A review of your FBI report
Application of relevant Canadian immigration law
A detailed written recommendation
Answers to your personal questions
$150 off of your choice of service
Benefits of the Evaluation Service
We Find The Right Solution For You
If you have been denied entry into Canada or are inadmissible there are ways to have the inadmissibility removed.  You may still be able to travel or move to Canada and apply for a visa as long as you meet the other requirements. You can be deemed rehabilitated or granted an application for rehabilitation, which removes the inadmissibility due to the criminal cases, if you have met the designated waiting period for the particular offense on your record.
We Do The Complex Legal Analysis
When applying for an application for rehabilitation, an immigration officer will review the application and the factors that are taken into consideration are:
The number of offenses and the circumstances of the offense
Your behavior since the offense
Your explanation of the offense and likely of not re-offending
Any support from your community
Why you believe you are rehabilitated
Your current situation
Applications for rehabilitation can take a year or more to process. Since not everyone is able to apply for admissible status and it is a lengthy and intricate process, it is important that you consult someone that is knowledgeable in the subject. Determining eligibility requirements and which program to utilize is a complex process that involves researching laws from at least two countries. We can research your case and represent you 100 percent of the way. It is also important to note, that if you are looking for legal represenative, only an attorney licensed in Canada or a certified Canadian Immigration Specialist can represent you before the Canadian Department of Immigration; anyone else will just be selling you forms (and often the wrong ones).
Our Low Cost Evaluation Makes Sure You Don't Go Down The Wrong Path
Our service starts with a comprehensive evaluation of your record, how it translates to Canadian law, and the effects it would have on travel or immigration to Canada. For $150 we can evaluate your criminal history and inform you of the best way to move forward with becoming eligible to travel or move to Canada. You will receive a written evaluation that explains the law, how the law applies to you, and what to do now. Also, if you have any questions about the evaluation we can go through it with you.
You Get The Confidence Of Having A National Law Firm and Licensed Immigration Specialist Handle Your Case and Confidential Information
Our immigration consultant, Ms. Janine Drulay, will evaluate your criminal history and draft a written analysis of your situation. Ms. Drulay is a regulated Canadian immigration consultant (ICCRC # R410047), and is a full member of both the Immigration Consultants of Canada Regulatory Council (ICCRC), and the Canadian Association of Professional Immigration Consultants (CAPIC). Regulated consultants are professionals who are equipped with the latest information on immigration law, procedures, and practices. She is authorized by Citizenship and Immigration Canada (CIC), and the Canada Border Services Agency (CBSA) to represent and guide persons seeking immigration to Canada throughout all stages of the immigration process.
Overview of Entry into Canada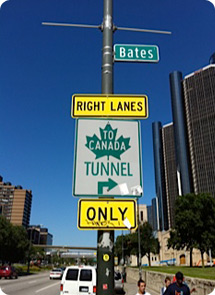 Entry into Canada whether to visit or immigrate is a privilege that is not extended to everyone, especially those with certain criminal records.    Canada has information sharing agreements with several countries, including the United States of America. This allows Canadian border agents immediate access to criminal records and the ability to deny entry for offenses that are often considered minor offenses countries.  Every day travelers are shocked and embarrassed to find themselves denied entry for such offenses as petty-theft, simple assault, driving under the influence, and many other charges. We can help you avoid this embarrassment and frustration.
Higbee & Associates has helped people from all over the world gain entry to Canada.
Price of the Evaluation
The Case Evaluation costs only $150, and includes:
A review of your FBI report *
Application of relevant Canadian immigration law
A detailed written recommendation
Answers to your personal questions
$150 off your choice of service
* If you do not have your FBI report, we will help you obtain it. The FBI will charge about $25 for the report.

We accept all major credit cards.
All your information is protected through our secure system.